There are days when meat is replaced with another pleasure, then come in, straight from the sea, courtesy of our fisherman Ahskat, fish species:
T. fertile, Saragosim bumps Shitoganv really cold days, fish soup.
"Cold dishes" – large size green salads, fresh and without preservatives.
For us this is a great pleasure to have you for dinner, the pleasure is still more – when it comes to a romantic meal.
A romantic dinner yacht
Background noise on the sea breeze moves the yacht, there is room to say things.
In the dark, by candlelight, it's just you, enjoy contact with the tree,
Smoked fish casseroles. We are the sea, and invite you to dinner
White Cloud Yacht Menu
– Chicken and sweet chili – chicken barbecue.
– Roast beef
– Language sauce
– Stuffed – Artichoke. Moussaka – potato
– Goose sweet taste Cilli
– Herbs and soy chicken skewers SEASONING
– Meatballs Gonda (Persian food)
– Grilled Chicken Breast
Fish
– Salmon Sweet Cilli
– Salmon steak with mustard
– Salmon steak seasoned herbs
– Fish sticks
– Moroccan scented Nile perch
– Tilapia fillet seasoned herbs
– Plimda oven
– Dennis oven
Add
– Okra – Olives in Tomato Sauce – white beans with herbs and cherry tomatoes SEASONING
– Rice and sweet if raisins and almonds
– Thai rice
Salads
– Green salad with olive oil and lemon
– Salad, parsley-based sauce bulgur
– Hummus White Cloud
– Baladi eggplant tahini
Drinking
– Alimonae
– Wine (Cabernet Sauvignon)
Dessert
– Seasonal fruit
– Coffee and tea
A romantic cruise for couples
Want to pamper your spouse unusual romantic gesture? A romantic dinner in the sea, is undoubtedly one of the most pleasant leading firm can surprise your partner. White Cloud offers yacht lovers a memorable experience of a romantic cruise for couples combines a romantic dinner at sea with a variety of fun activities, and allows also to extend the entertainment experience several days of vacation and make the event a guest on the water …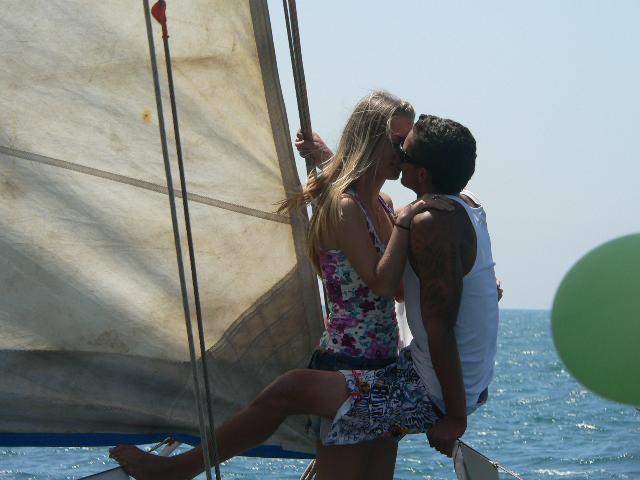 Romantic double Cruises
A romantic dinner at sea, will be served to participants during a romantic cruise for couples on the yacht rich cuisine, serving a varied menu that includes a rich meat stew, and eat chicken and beef and fish of various kinds are wonderfully delicious. However, even a romantic cruise, a fun fishing can include the heart of the blue sea, When the fisherman on board the yacht White Cloud never fails, and we need to Abahachtanv, we of course have a meal and give it to the chef to prepare delicious.
A romantic dinner at sea
So if you are looking for alternative way out the canopy a few nights, go to a romantic cruise wondered double Zimmer vacation on the water, combining enjoyment of clean air and open spaces, blue, fishing fun and challenging full of adrenaline, a romantic dinner at sunset parity, with only the sound waves Mpachpach under the sun deck sinking into the horizon of the sea and you, enjoy a romantic double experience, rich flavors and emotions, the heart of the stunning Mediterranean beauty. Rear of the yacht's white cloud, you will find double beds draped in red velvet, ready for the night guarantee pleasant couples who want to enjoy the presence of each other, different atmosphere, a unique and magical, as only the depth of the sea can offer.